'TRADEGY KING' MARIO MENEZES AND TROUPE ARRIVES IN KUWAIT
Kuwait Airport was abuzz on the arrival of Mario Menezes & Troupe (artistes, musicians, singers and stage technicians) for the much acclaimed Konkani Drama 'Xirlo' who were warmly received by President of Kuwait Goan Association Salvador Dias and KGA Members along with well-wishers.
The troupe will perform on November 18 (Friday) at 3:30 p.m. at AlJeel Al Jadeed Arabic School, Hawalli (Opp. Canary Restaurant - Tunis Street).
A commemorative Souvenir will be released to mark KGA 6th anniversary event supported by Goan, Mangalorean and Konkani communities.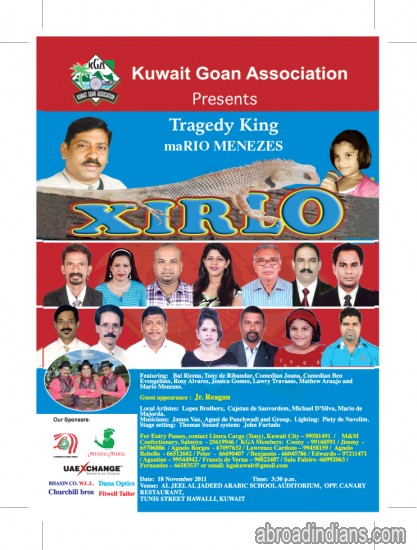 KGA looks forward to welcome you all. Enjoy the drama and be a part of our 6th anniversary celebrations!
(KGA Press Release/16 November 2011)